Cold Storage Systems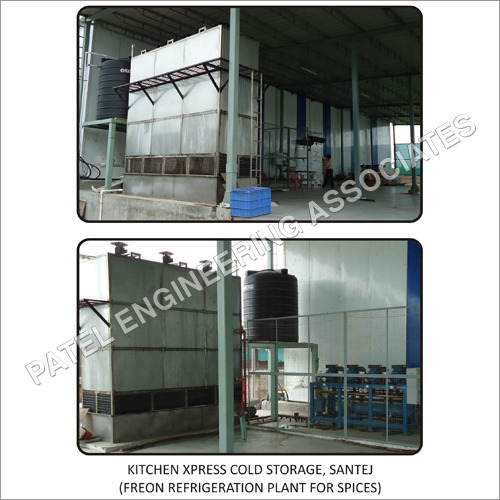 Cold Storage Systems
Product Description
To fulfill the demands and needs of customers, we provide Cold Storage Systems that are widely used in food and beverage industry. These systems are designed in accordance with industry guidelines using quality components and material to increase the shelf life of the stored products. All the Cold Storage Systems are designed and developed at customers end by incorporating the details provided by them.
Features:
Longer working life
Less maintenance
Easy to clean and operate
Other information:

For maintaining proper quality and increasing the self-life of the food products, proper designing of the Cold Storage is essential.
Room temperature, relative humidity, ventilation system, level of Carbon Dioxide (CO2) / Oxygen (O2) / Ethylene in the storage and air movement throughout the chamber is different for each product depending on the type and quality of the product to be stored in the Cold Storage.
Knowledge of heat generation and water emission by the product at different temperature and at different level of oxygen is necessary for proper designing of the Cold Storage.
We are designing the Cold Storage system in such a way that,
Power consumption is minimum
Weight loss of the product is less
Water removal from the evaporator coils is minimum
Requirement of supplementary humidification is minimum
Refrigeration load is reduced by installing Heat Recovery units in the ventilation system and proper selection of insulation
Water particle carryover from the Humidifier is eliminated by proper designing of Humidifiers
Operating, maintenance and installation cost is minimum
Safety of manpower is considered
We have designed all types of Cold Storages for the storage of different products such as,
Bin / Box / Bag storage of Potato for Pepsi, Mc-Cain, Parle, Balaji, ITC and other manufacturers of Wafer and Chips producers
Controlled Atmosphere (CA) Cold Storage for Apples
Cold Storage with chemical treatment and wax coating for Lemon and other Citrus Fruits
Ripening Chambers for Banana & Mango
Frozen Fruits, Vegetables, Fish, Meat, etc
Dry Fruits, Seeds, Jaggery, Spices, Dry Chili, Food Grains, Pulses, Grocery, etc.

Cold Storage for Onion which requires unique ventilation system
Ice-cream, Milk, Butter, Dahi and other Dairy products
Mushroom, Vegetable Oil Granulations, etc.

We have designed Hardening Tunnel / Blast Cooler / IQF for different products such as,
Frozen Vegetables
Ice-cream
Paneer & Dahi
Butter & Cheese
Fisheries
Refrigerants:
Building Types:

PUF / EPS panel type
RCC / masonry with insulation
Capacity of Chambers: 10 M. Ton to 2000 M. Ton
Enclosed: Advantage of Consultancy work in Cold Storage