Heat Pump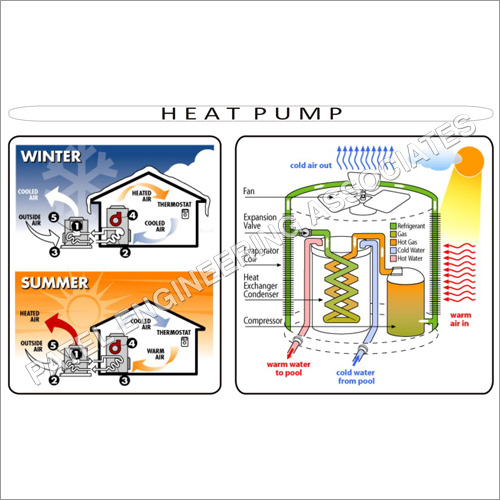 Heat Pump
Product Description
To meet the diverse requirements of our prestigious customers, we design and supply Heat Pump. Used to transfer heat from one place to another, these pumps are widely demanded by chemical, oil & gas, rubber, cosmetics and automobile industries. Our Heat Pump is designed at par with international quality standards, using premium grade material and latest technology. Also, we provide on-time delivery of these pumps at customers end.
Features:
Optimum performance
Less maintenance
Longer service life
Other information:
Refrigeration system is a type of Heat Pump. Absorption of heat occurs at one place by the refrigerant evaporation and it is pumped and transferred at higher temperature at another location and rejected in water or air by water cooled or air cooled condenser.
To transfer 4 - 5 kw heat from low temperature level to higher temperature, the power required by fan and compressors or pump motor is only around 1 - 1.5 kw considering the temperature variation between lower level evaporative temperature and higher level condensing temperature.
In winter season, water is heated in water cooled condenser up to 5 kw by utilizing only 1 to 1.5 kw power for pump / fan or compressor power. We can save 60 - 80% electricity by using heat pumps instead of electric water heaters in hotels, cottage, hospitals and other places.